My 13-month lease at the Parkland View apartment complex in Breinigsville, PA was up at the end of September. Having lived at several different apartment complexes in the past, I was expecting a move-out packet to appear on my day sometime within my last 2 weeks of living there. One never did.
Frankly, I was too busy getting ready to move to even worry about it though. Basically, the move-out process was non-existent. No walk through, no moving out checklist – nothing.
On the last day of the month, we went up to the office to turn in our keys. And, surprise, surprise, our little notice that we were moving out (which we had filed back in August) was nowhere to be found. It was like the girl in the office had no freaking idea that we were moving out. I'd like to say I was surprised, but I wasn't.
Of course, I know fully well that someone in the office DID know were we moving out. I know this because we did not get a rent statement in the mail to pay for October.
Now all there is to worry about is the deposit getting returned – and how much we'll actually get back. Pennsylvania law states that they have 30 days to return the deposit, but I suspect I'll have to contact them for that too.
Having left Parkland View apartments, I can point out the good points of the complex for anyone wanting to look past the bad parts.
The appliances are all new, which is nice.
The refrigerator is a nice large one, not typical of most apartments
Tile floors in the kitchen and bathrooms
Digital thermostat
Nice workout room with nice, new equipment
Update: I did contact them about my deposit refund and rec'd it a few days later. I got the full amount back, which was a surprise. I also got a rent bill for the month…even though I moved out. Go figure.
This review is my personal opinion based on my experience living at Parkland View Apartments.
I am less than two weeks from finishing serving my one year (13 months to them) lease sentence here at Parkland View Apartments in Breinigsville. I have written a few times in the past about my experience here, you can view the following posts if you missed them:
More things have happened that I have not yet written about because I haven't had the time. I'll cover those things now as well as highlight some of the comments people have left me about the apartments here.
On 5/4/10, commenter "Shut up" left me a comment that included this:
I'm sorry, but I blame you for not knowing better about what you were gettin yourself into. Don't you have some kind of free rent concession or move-in special? That's so you don't complain about the new construction. Also, you can bet your ass that your renewal will go through the roof. Plan on moving again in six months.
There was no rent concession or move-in special when I moved in. My rent was quoted at $950 for a 1BR. I was told about all of the amenities (pool, fitness center, putting green, etc) and that I was getting the last apartment in the complex. When I arrived, the leasing office was being run out of one of the apartments because construction hadn't actually finished on the leasing center/pool/fitness center/clubhouse. Yes, I rented sight unseen from 2500+ miles away, but that doesn't excuse the lies I was told. My renewal offer also did not go through the roof – in fact, I was offered a two-year extension at the same price I currently pay. This is a first for me in 12 years of apartment renting. I assume this has something to do with people constantly moving out here – at least that is my opinion based on the turnover and people I see moving out often.
Here is a comment, in it's entirety, from a commenter named "Unhappy" from 8/4/10:
I would NOT recommend Parkland View. Since my stay here there have been multiple instances where I was misled or misinformed. Scrutinize your lease. If you're not careful, you'll be signed into a 13 month lease even though it is presented as 12. Construction is ongoing and the plans have changed. Do not trust the plans they show you for new construction. The original plans showed no new construction behind the apartment I am in, so assume it will go up right behind your building. Construction noise has started as early as 5am, typically starting at 6-7. This includes Saturday and some Sundays. You will receive many changes to scheduled maintenance leaving you unsure of when individuals are actually entering your apartment (perhaps in the middle of a shower). The move-in quality was poor and I moved into a brand-new unit. I have cracks in my walls, scuffs on my walls, large chipped pieces falling from the ceiling, paint on my shower stalls, scratches on my tub, chips in the baseboard, bubbles in the paint on the walls, unpainted or lightly painted spots on the walls and I just moved in. There was mud on the floor and cracks in the ceiling in multiple rooms. Find yourself another option because interaction with the office does not resolve problems. I have had several apartments in different parts of the state and have never been so dumbfounded at management.
I agree that there have been multiple times that I have been mislead by the staff here at Parkland View. Like how a month ago they sent out a thing saying they were going to be changing the filters in the apartments and never arrived. Later an email came saying it was going to be rescheduled (it hasn't.) Less than two weeks left of my 13-month lease and the filter has been changed once! My lease was also presented as a one-year lease. I, too, didn't notice it was for 13 months. Apparently this is a common practice in PA called "concealment" that apartment complexes get away with. I just call it bad math and shady business practices. I don't know anything about the construction plans, but was told at one point that it would be going on for at least two years.
Construction noise is, in fact, a problem here – at least in my opinion. The work does start early. And even though there is a construction entrance, I see construction vehicles passing my building regularly. Some of them are large and loud, which is annoying. And presently, it seems that the construction workers are hanging out in the area where the trash compactor is located – not ideal if you are a single woman. And yes, there seems to be just one trash compactor for the entire complex and it gets overflowing often.
I also agree that move-in condition was rather piss poor for a brand new "luxury" unit. I also moved into a place with scuffs on the walls, chunks out of the door trim and baseboards, paint spots in the tub, areas of paint on the wall that look like they missed a spot or just painted too lightly and such. When I mentioned these things and putting them on my move-in check list, I was told not to worry about it. Can't wait to see what happens with my deposit!
I also have cracks in several places throughout the apartment. In the bedroom, there is a corner where it looks like you could fit a roll of dimes in the crack between the baseboards. And out of my five windows, only two of them have locks that function properly. This means that I can only open those two windows – and on one of the windows the locks only work on one side. Mmmm, high quality luxury apartments here are awesome!
As I mentioned, I often take my trash down to the compactor only to discover that it is overflowing. Here's how it looked on August 29, 2010 -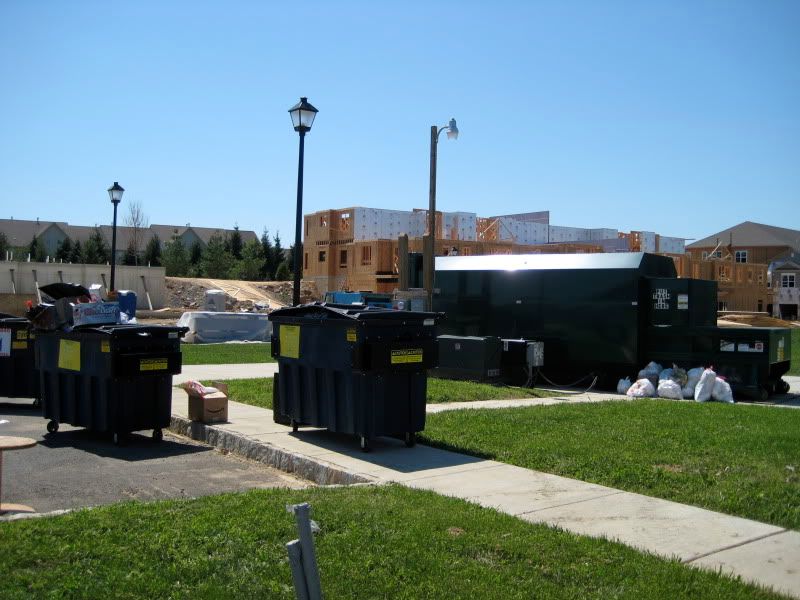 Now tell me – is this how luxury apartments should look to you?
But, my most recent *favorite* moment of WTF?!? here is waking up before 8 a.m. due to the use of a jackhammer and god knows what else outside my building….they were apparently tearing up the walkway for some reason…
Awesome, yes? Did I mention there was no warming of this super loud noise? Or that I live in a building that is supposedly finished? Speaking of the building that should have been finished when I moved in – on June 2, 2010 there were construction workers going around the buildings putting up the trim above the garages, as seen below.
Just another annoyance of something that should have been completed long ago. Kind of like how the door handle on my bathroom door frequently falls off in your hand. Awesome.
I have also had a bit of an insect problem from the beginning. Now, I do live on the ground floor, so some bugs are to be expected. I've never seen bugs like these though. They are very tiny, like small ants only their bodies are almost translucent – and they are everywhere. I always seem them on the bathroom walls. And I frequently find them in pots from the cupboard. Just gross, in my opinion.
And let's talk about the smell of this place. I have no idea what types of materials and chemicals they used to build this place – but it still have that strong, overpowering, new chemical smell – both in my apartment and in the building hallways. In my opinion, they must have used the cheapest and most toxic stuff the could have found. If you are all sensitive to VOCs or have any type of asthma or breathing issues you will want to avoid this place. The smell is really that bad – at least in my building.
The fitness center here is pretty nice. My only complaint with it is that they direct everyone that is going to the pool to enter through the fitness center. That constant traffic can be annoying when you're trying to work out. And there is no reason it can't be a 24 hour fitness center, which is usually standard in luxury apartment complexes (at least in my experience).
I'm currently finishing up the 13th month of my one-year lease here at Parkland View Apartments. Yup, one year = 13 months here, so read your lease carefully before signing. You may have already seen this mentioned by a previous commenter.  On 8/4/10, a commenter named "Unhappy" wrote:
I would NOT recommend Parkland View. Since my stay here there have been multiple instances where I was misled or misinformed. Scrutinize your lease. If you're not careful, you'll be signed into a 13 month lease even though it is presented as 12….
You can see the rest of the comment on the Parkland View Apartments in Breinigsville, PA Review – The Fun Continues post. But, back to the topic of my post…
A couple of weeks ago I was in the fitness center here at Parkland View when a couple of young women came into the room. It was late, sometime after 9pm, and they were not dressed for working out. They came up to me and one of them asked if I was having problems getting into my apartment because of the lock changes. I didn't know what she was talking about and told her my locks hadn't been changed and asked what building she was in. If I remember correctly, she told me that was in building F, to which I replied that I was not in that building and that maybe only her building has the locks changed. She then went on to tell me that someone in her building had been robbed and that they had gotten fliers about the locks getting changed and that she worked late and had no way of getting into her apartment now.
I have no idea if her story was true or not. In my opinion, I think there must be some truth to it as I got the following email yesterday:
The management of Parkland View is in the process of providing an enhanced security system for all our residents. Towards that end we will be replacing all the apartment door locks in the community.

The locks in Building R will be changed Tuesday September 21st , starting at 9am.

The locksmith will be accompanied by a representative of Parkland View management.

You can pick up your new keys at the Clubhouse until 6pm. If that is not convenient for you, please call Diane (484-860-3100) to make alternate arraignments.

Thank you in advance for your cooperation. If you should have any questions, please feel free to call.
Additionally, last night after 5pm the property manager guy was putting fliers on doors in my building that said the same thing. My girlfriend answered the door when he knocked and he went on to tell her how the locks were being changed but that it wouldn't start until 9 a.m. With that in mind, we set the alarms for 8:45 a.m. to make sure we were awake before they were to arrive.
Imagine my surprise when there was a short knock on the door at 8:17 a.m. today followed by two strange men immediately entering the apartment. There was no wait for anyone to answer the door. And did I mention no one was awake because we were told it was starting at 9 a.m. Note how it was almost 45 minutes BEFORE 9 a.m. In my opinion, this is actually pretty unsafe for women.
When asked "I thought you weren't starting until 9 a.m. ???" the locksmith guy apologized and said he was told that the apartment was empty. He offered to come back later and apologized several more times. The "representative of Parkland View management" that was accompanying him never said a word. He is really the person that should have been making apologies here.
Ah, so much for "luxury" apartments! The building we live in is almost exactly 6 months old. Just 6 wee months. And right now it appears that there is a problem with the roof of my building. Ah, fine American craftsmanship.
Construction workers with tall ladders and loud equipment are banging on something on the roof. Do I know for sure that they are on the roof? No. I do know that a really long ladder is leaning against the building outside of our window. And in my opinion that ladder goes to the roof. And all that banging I hear – what else could it be? Nevermind the fact that the group of workers were huddled outside the window looking up and pointing before getting the ladder out.
Considering the rain we've had the past few days I'm *really* glad to not be on the top floor.
This place really makes our previous luxury apartment seem like the Taj Mahal – except for all the fire alarms we had to deal with there. At least I'm assuming there are not rampant fire alarms going off at all hours at the Taj.
The Bumblefucked household always uses TurboTax for federal tax filing. It is super easy to use (we are not affiliated with Turbo Tax in any way).
If you want to use TurboTax you can get a 25% discount through the Fidelity website. You do NOT have to be a Fidelity customer to get this discount.
Check it out if you're interested.
If you have a need for TurboTax Business 2009 you can download it for free at this link. You can download this if you used TurboTax Business last year, but this free version will NOT allow you to import in last year's info. So, if you don't mind keying it all in again you can use this for free!
It is only for Windows.
I just signed up and was approved for a new account with TradeKing. I logged into my account and was prompted with "Enchanced Security Registration" where I have to set up my security questions and answers. This is no shock as a lot of websites require it.
What I do hate is that I have to pick three of these and the choices are absolutely horrible.
Do people really remember the name of their college dorm and other stupid questions? I like sites that let me write the question. That makes it so much easier to remember.
If you are using ING Direct's high yield savings account you may have seen people mentioning having sub-accounts setup in their ING account. This can be helpful if you have one savings account but you want to allocated it for different things like a vacation fund, a Christmas fund or a new car fund.
Setting up sub-accounts on ING is actually a pretty simple process.
Just log into your ING account. Click on the button to open a new account and select "savings account." Give it a name, like "new car fund," and fund the account using your existing ING account or linked checking account. Once the account is funded, you will be able to see it under "My Accounts."
If you want to change the name of the sub-account just click "change nickname" while viewing the ING sub-account.
ING Direct is the main bank used by the Bumblefucked household. I think yo ucan't go wrong with high yield savings and a checking account that also earns interest. Of course, these days the interest rate is laughable. But anyways, if you have an ING Direct account that you want to be able to manage with Quicken you can set that up real quick like.
You will need to open up Quicken on your computer and create a new account called ING (or whatever you want to call it) for your ING account. Be sure to select ING Direct from the list of banks.
Go through the New Account Assistant screens to get everything setup.
Once your account is created you want to click on "Lists" and the select the new account you just created so that you can edit it.
This is when you will need your ING login info to connect to the website and log into your account.
Click on the download button and key in the dates of the transactions that you want to download into Quicken.
Then you need to click on the Quicken button and select that you wanna download into an existing Quicken account. Clicking Continue enables the ING Web Connect and starts the download. And now, you will be all set for Quicken to connect with ING Direct each time you are in Quicken.
I have had a checking account since I was 16 and I have worked at two different banks in the past. I am well aware of the fact that sometimes when you deposit an out of state check that it can get held up a few extra days. What I was not aware of was that Wachovia takes advantage of this in an extreme way.
You see, yesterday we went to the bank to deposit a check for a few thousand that Riley had won in a contest. A contest done by a major magazine. The check was directly from said magazine. Well, as soon as the teller started asking questions I knew the check was going to be subject to a hold policy. The teller, or Sally Do-Gooder as I like to call her, just couldn't wrap her mind around the fact that the check had "prize winner" listed and wanted to know if we had actually entered a contest and such. She told us that she did not know how long of a hold would be put on it.
After getting home I pulled up the account on the Wachovia website to see the funds release date listed as 12/03/09. And yes, I deposited it before the cut-off time yesterday, which was 11/17/09. I hoped that it was just a fluke and that the date would change after midnight processing.
Not only did I get up today to find that 12/03/09 is still the release date, but they have not even made the $100 available from it, which federal law dictates that they do.
We are taking a little trip to speak with the branch manager after lunch and hoping to at least get the hold time shortened.
UPDATE: A calm, friendly conversation with the branch manager got the entire amount of the check available immediately today.